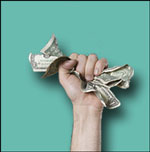 Many homeowners will plan and save for a variety of events including retirement, a child's education or a nice vacation. Few, if any, save for a new HVAC system. When they find out they are going to need one, they try to scrape the money together. Consequently, they become extremely price-sensitive, putting you in an unfavorable position.
Without access to financing, customers may want a better system for their homes, but find themselves simply unable to afford it. Allow your customers the opportunity to pick better equipment, accessories and maintenance plans by implementing a strategic financing plan.
Even if you are currently offering financing, your process may be restricting your results. A good financing strategy:
Provides a positive customer experience.
Offers a variety of customized plans to the customer.
Secures non-stressful approvals prior to the sales presentation.
Additional information on financing is available on GoArcoaire.com under the Business Building Tools – Win More Customers in the Home tab. A great financing plan will win lifetime customers, grow incremental sales and allow your customers to enjoy the benefits of improved indoor air quality!

My Learning Center can also help you hone your financing strategy. Take advantage of our self-paced learning modules and obtain Elite Dealer hours.