The HVAC industry needs to catch up!
Offering financing benefits your customers by:
Allowing them to use their money in other places because they are not tying up a large chunk of it in a new HVAC system purchase.
Providing them a return on investment (ROI).
Allowing them to keep cash on hand for emergencies.
Offering them access to higher efficiency equipment that provides a greater ROI.
Allowing them to purchase more accessories to give them a system that more completely meets their needs.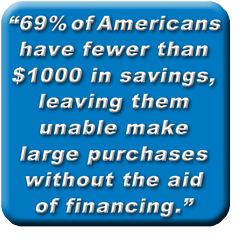 Offering financing benefits you by:
Giving you the opportunity to discuss the benefits of high efficiency equipment and accessories that your customers may otherwise be unable to afford.
Increasing your average sale. The average Heil® equipment sale is 30% higher with financing than without.
The following examples illustrate how offering financing gives consumers beneficial options:

Example #1: You do not offer financing, so the full price of the sale must be paid in one lump sum payment upon job completion.
There are two ways customers can make this lump sum payment:
1. They have the cash on hand. This option is unlikely based on the statistic about the savings of the average American mentioned above.
2. They put the cost on a credit card or separate loan. This option raises two additional issues:
63% of Americans aged 18-29 don't own a credit card according to Bankrate.com.3
Whether using a credit card or a loan, they are essentially financing from another source.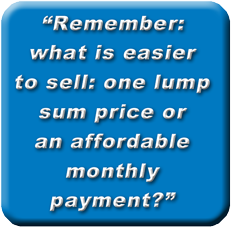 Example #2: You offer financing, so the price of the sale can be paid through affordable monthly payments that fit your customer's budget.
Most customers are accustomed to financing large purchases and most likely already use some other source of financing. Why shouldn't you be the one to offer them financing options and tie them to your business?
Affordable monthly payments give customers the ability to upgrade to higher efficiency equipment and add accessories while still maintaining monthly payments they can afford.
Consumers today are accustomed to financing, so our industry needs to catch up and share our financing options. Remember: what is easier to sell: one lump sum price or an affordable monthly payment?

We will discuss how to start offering consumer financing in Offering Consumer Financing Part 2.
Click here for information about participating in the Heil financing program.