---
2. Catch up on training.


Heil offers access to free training modules from My Learning Center on a range of topics relevant to your business. Learn how to improve your customer interactions and run your business more efficiently.
The training modules are self-paced. If you start a training class and get interrupted for some reason, you can suspend the training and pick the class back up at a later time.
My Learning Center will also help you quickly and easily track your training hours. The My Training section keeps a comprehensive list of all the training courses you have completed throughout the year and helps you obtain Elite Dealer hours.
Click here to learn how to access My Learning Center.
---
3. Overhaul your sales pitch.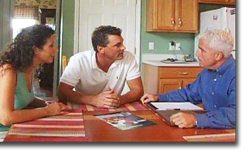 Are you offering your customers choices?
It's your job to educate your customers about the products currently available. Offer them choices to help them decide which option is best for their needs and budgets.
A longtime best practice in sales has been to offer customers three options equipped with various features and accessories marketed as "good-better-best." Today's best salespeople have expanded this traditional sales strategy to include a fourth, more premium tier: "fantastic." By utilizing this strategy in your business, you can raise your average sale and increase profitability.
Consider the following "fantastic" example for a customer in need of a new air conditioner:
Fantastic option: QuietComfort Deluxe 19 SEER inverter variable-speed air conditioner with SmartSense technology
Best option: QuietComfort Deluxe 17 two-stage high efficiency model
Better option: QuietComfort 16 single-stage model
Good option: QuietComfort 14 single-stage model
Remember that this set of options is just one example. Customize your offering to best suit the market, season and individual customer.
For more information on this topic, click here.
---
Years free of new federal regulations like this one have become few and far between. Make sure you take full advantage of 2017!
Check GoHeil.com regularly for tips and ideas to continually optimize your HVAC business.