Strategies for Creating More Lifetime Customers

Adding new customers is great for your business, but keeping the ones you have is often even more important. Did you know that the average HVAC company loses 10% to 20% of its customers each year?
Surprisingly, while some customers leave for reasons beyond the dealer's control, approximately two-thirds leave due to the indifference of the company to them.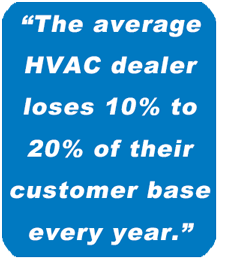 Even more surprising is that the average lifetime value of an HVAC customer is between $40,000 and $50,000! Simply put, you cannot let indifference cost you anymore existing customers.
Led by Bob Gee, the Creating Lifetime Customers series presents information on how to prevent the loss of customers with proven, practical solutions.
Customer Care and Retention Plan
Bring the problem of lost customers down to the company level to develop solutions. Learn how to evaluate your company's customer satisfaction procedures, identify ways to uncover customer complaints and develop a plan that creates positive reactions from customers.

Resolving Customer Complaints
The most successful customer retention plans seek out and resolve complaints. Complainers can become your most loyal customers if their complaints are resolved. Learn how to solve communication shortfalls and develop fixes for customer complaints.

Best Practices
This module provides examples of customer satisfaction models that HVAC companies have implemented to increase customer retention, such as e-newsletters, "happy calls" for feedback on customer satisfaction, innovative thank you notes and much more.

The courses are currently available on My Learning Center.
---

---
About the Presenter:
Bob Gee spent over 25 years with a multi-state wholesale distributor, serving as Director of Dealer Development and Field Sales Manager. He then formed Robert Gee & Associates and developed a variety of HVAC dealer training programs on sales, management, marketing and customer service. He has facilitated over 2,000 workshops and presented over 100 keynote addresses.
---
How Do I Access My Learning Center?
My Learning Center is easy to access and use. In a matter of minutes, you can be online participating in a training session.

Click here to learn how to access My Learning Center
If you have any questions, please email My Learning Center.
My Learning Center is an easy way to learn more about the latest Heil products, programs, sales, customer service and marketing tips on your home or office computer, at a time that's convenient for you.