Heil Announces New FER-Compliant Gas Furnace Line
What is FER?
FER (Fan Energy Rating) specifies a maximum fan energy rating that varies based on the airflow provided by the furnace fan.
Each furnace model must be tested to confirm the FER value meets the regulation, and the furnace must be re-designed if the value is above the allowable limit. FER limit targets either a 12% or 46% reduction in watts/cfm, depending on the type of furnace.
The FER regulations take effect on July 3, 2019.
---
How does Heil plan to meet FER standards?
The team at Heil Heating and Cooling has developed solutions to both meet FER standards AND provide a complete gas furnace product offering.
Heil is implementing the following technical changes to its gas furnace lineup: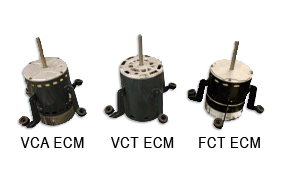 1. Eliminate PSC motors in new gas furnaces. These motors are simply not efficient enough to meet the new regulations. Heil will move all gas furnace product lines to more electrically efficient ECM motors, but will still support PSC parts for the foreseeable future.
2. Heil is utilizing new ECM technology that will increase motor efficiency from approximately 80% to approximately 85%. Additionally, Heil has added new blower wheel technology for models with the largest challenge meeting FER (95%+AFUE with 14" cabinet).
3. Heil is making airflow adjustments to ECM models to improve operational efficiency.
Heil plans to launch its new FER compliant lineup in May, 2019: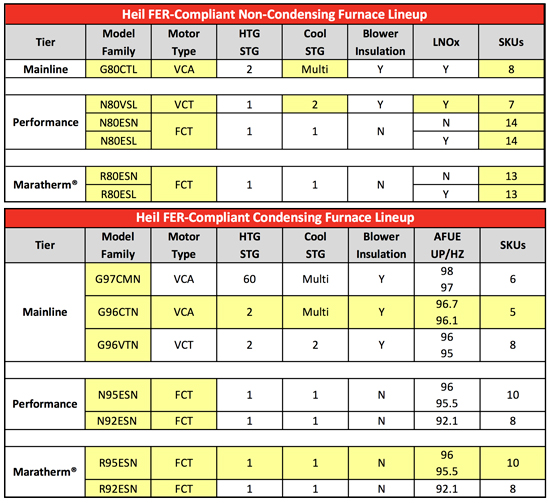 Best:
Communicating variable-speed constant airflow (VCA) ECM motors
Modulating (90s)
Two-stage

Better:
Variable-speed constant torque (VCT) ECM motors
1-stage or 2-stage heat
2-stage cool and dehumidification compatible

Good:
Fixed-speed constant torque (FCT) ECM motors
1-stage heat and cool

Because the FER watt reduction target for oil furnaces is considerably lower than for gas furnaces, Heil PSC oil furnaces are anticipated to meet FER requirements without any changes.
---
What do these changes mean for Heil® gas furnace nomenclature?
Heil is changing gas furnace nomenclature to better describe the product features with more descriptive product efficiency and different motor descriptors. See the chart below for explanation:

Want to put your Heil gas furnace nomenclature knowledge to the test? Try the Gas Furnace Nomenclature Game on My Learning Center. Click here for more information.
Expect continued FER announcements on GoHeil.com over the next few months!