Eight Personalized Zones of Comfort
with the Ion™ System Control

With its elegant design and easy-to-use touchscreen interface, the Heil® Ion™ System Control can manage:
Individual zone airflow,

Temperature,

Humidity,

Dehumidification,

Ventilation, and

Indoor air quality in up to eight zones.
As mentioned in the video above, each zone can have its own settings based on individual needs, and all of the zones are controlled by one centrally-located Ion System Control. How's that for being in command of your comfort?

Let's see how the Ion System Control makes zoning easy for dealers and homeowners alike!
---
Dealers Can Easily Design a Custom Zoned System
With its advanced touchscreen performance and on-screen "how to" prompts, the Ion System Control makes it easy to design a zoned HVAC system for almost any home or customer. It recognizes other compatible1 Heil® indoor and outdoor equipment and communicates with it to better optimize the airflow and comfort settings in each zone.
Check out the Ion System Control Zoning Design Guide for more information on designing a custom zoned system.
The Ion System Control Zoning Design Guide Can Help You Set Up a Custom System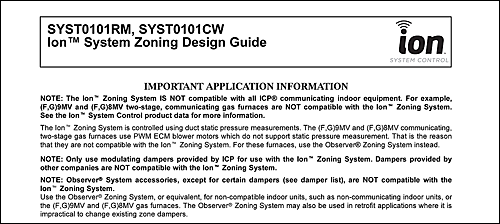 ---
Simple Installation for Dealers
When utilized with compatible1 indoor equipment, an Ion System Control has the ability to control up to eight zones in residential or light commercial applications. The Ion System Control with Zoning Capabilities incorporates innovative technology that makes installation simple for dealers and features the following:
It does not require a bypass damper or leaving air sensor, but helps protect HVAC equipment from limit trips and coil freezing.
It does not require a separate field installed power transformer.
The system can control up to five dampers per zone.
It automatically identifies compatible1 communicating equipment.
A patented Automatic Duct Assessment allows the Ion System Control to deliver exceptional and quiet comfort with most duct systems.
Click here to download the Ion System Control Damper Control Instructions for more information.

Easy Installation of a Zoned System with the Ion System Control Damper Control Instructions
---
Customers Can Easily Take Control of Their Zoned Systems
The Ion System Control with Zoning Capabilities makes the most of a zoned system. It can direct conditioned air where and when it is needed the most to help homeowners avoid spending money heating or cooling rooms that are not in use. Click here to download the Ion System Control with Wi-Fi® and Zoning Capabilities consumer brochure.
Share the Ion System Control Consumer Brochure with Customers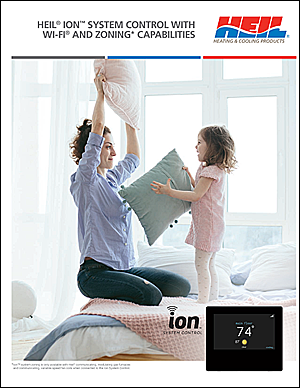 ---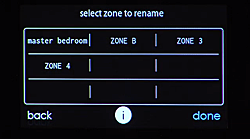 Customizable Zone Names Make Setting Changes a Snap
Homeowners can create custom zone names — like "Kitchen," "Family Room," or "Guest Bedroom" — that help them easily identify the area they would like to adjust. It's easy to make temperature or humidity adjustments to the correct zones quickly and easily.
---
Smart Recovery Enables Homeowners to be Smarter About Comfort Settings
The Smart Recovery feature is designed to ensure each zoned area reaches the selected temperature setting at the proper time by starting the system before the scheduled temperature change. So, homeowners can set the temperature lower or higher when the rooms are not in use, but Smart Recovery allows each room to return to the desired temperature by the time they arrive home. Pretty smart!
---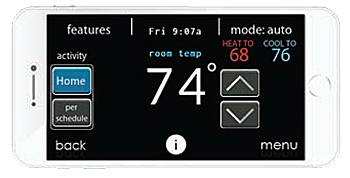 Access from Virtually Anywhere
Customers can experience the convenience of remote system access when they connect their Ion System Control to a compatible home Wi-Fi® network. Remote room sensors monitor the temperatures in individual zones and provide homeowners with the ability to adjust the temperature setting for a particular zone quickly and easily via convenient mobile apps on an iOS® or Android® mobile device, or from anywhere with Internet access.2
---
With all of these great dealer and homeowner features, the Ion System Control is more than just a thermostat. It makes setup of a zoned system simple and provides comfort control in up to eight zones, while seamlessly integrating and communicating with other compatible1 Heil equipment.

---
1 Only selct ICP brand communicating, modulating variable-speed furnaces, ICP communicating, variable-speed fan coils and ICP geothermal packaged units (when available) are compatible indoor units that work with the Ion Zoning System; see the Ion System Control Product Data Sheet for more details.

2 The Ion™ System Control must be connected to Wi-Fi®.
Trademarks are the property of their respective owners.