Dual Fuel May Be a Cost-Effective Solution
for Customers Working from Home This Winter
Due to COVID-19 safety guidelines, and more people working and learning from home, the U.S. Energy Information Administration (EIA) anticipates higher levels of home heating use this winter than in previous years. "Compared with last winter, [the] EIA forecasts natural gas expenditures will increase by 6%, electricity by 7%, and propane by 14%."1

As a result, homeowners are searching for efficient ways to heat their homes this season while staying cozy. A dual fuel system is one way to achieve efficiency, cost effectiveness and comfort.
Homeowners may have questions about dual fuel systems. Below, we provide answers to those frequently asked questions so you can help customers determine if a dual fuel system is the right choice for them.
---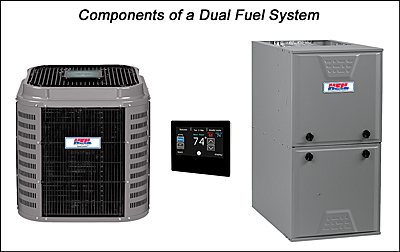 Homeowner Question: How does a dual fuel system work? Could it save me money on energy costs?
Your Answer: A dual fuel system usually includes a heat pump and a gas or oil furnace, managed by a compatible control or thermostat. It heats the home with an electric heat pump while the outdoor temperatures are within the range that the heat pump performs well. When the temperatures fall below that range, the system automatically switches to a gas or oil furnace, providing the homeowner with an efficient solution for every outdoor condition. So, a dual fuel system can potentially save energy costs by using the more efficient fuel source.2

A Heil® dual fuel system might include the HCH6 Ion™ 16 two-stage heat pump and a G97CMN Ion™ 98 gas furnace, managed by an Ion™ System Control (as pictured above).
---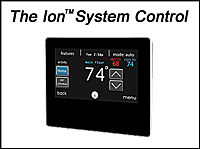 Homeowner Question: Can I choose my own settings for a dual fuel system, based on my comfort and cost preferences?
Your Answer: Absolutely, it's easy to customize the system settings to your preferences using the Ion System Control.

Homeowners can adjust the balance point to satisfy their own personal comfort ranges. Depending on the most economical fuel choice, some customers may want to run the heat pump as long into the winter as possible. Others may opt for gas heat earlier in the season.
Show customers the user-friendly touch screen on the Ion System Control and demonstrate how easy it is to adjust their settings depending on their preferences for comfort and cost savings. Click here for more information on the Ion System Control.
---
Homeowner Question: What products can I choose from if I am considering a dual fuel system? Is installation easy?
Your Answer: Depending on your budget and desire for long-term energy savings/comfort, I can certainly configure a dual fuel system that works for you.

At Heil, we have a wide range of heating and cooling options for just about any budget. From entry-level models to premium models, if there is feature compatibility, ANY Heil heat pump can be combined with ANY Heil furnace and compatible control to produce a dual fuel system. And installation is as easy as 1-2-3!
---
A dual fuel system can achieve efficiency, cost effectiveness and comfort switching between two efficiency energy sources.2 The next time a homeowner asks a question about dual fuel, you'll be ready to help them develop the right home heating solution to keep them cozy all winter long!
---
1 https://www.eia.gov/outlooks/steo/report/
2 Energy cost savings vary and depend on gas and electric utility costs, usage, weather, equipment, and temperature setting selected to switch from electric to gas.